A loyal dog, disoriented in the middle of traffic, sought help for her human father who lay on the ground, and finally managed to find her.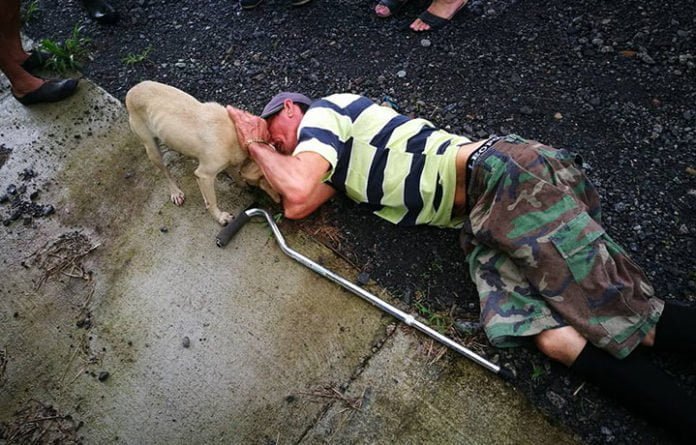 Last weekend, Milagro Muñoz Araya and her husband had stopped their car near the veterinary hospital where she works in Guapiles, Costa Rica, when they saw a disoriented little dog running from one side to the other across the road, dodging the cars. The loyal dog was looking for help for her human father.
Milagro told The Dodo:
"When I saw the dog running around nervously, I knew she was trying to tell us something. Then my husband and I parked the car to see what was wrong with the poor dog. "
The dog led them to a man lying on the ground with a cane at his side. It seemed that he was very hurt.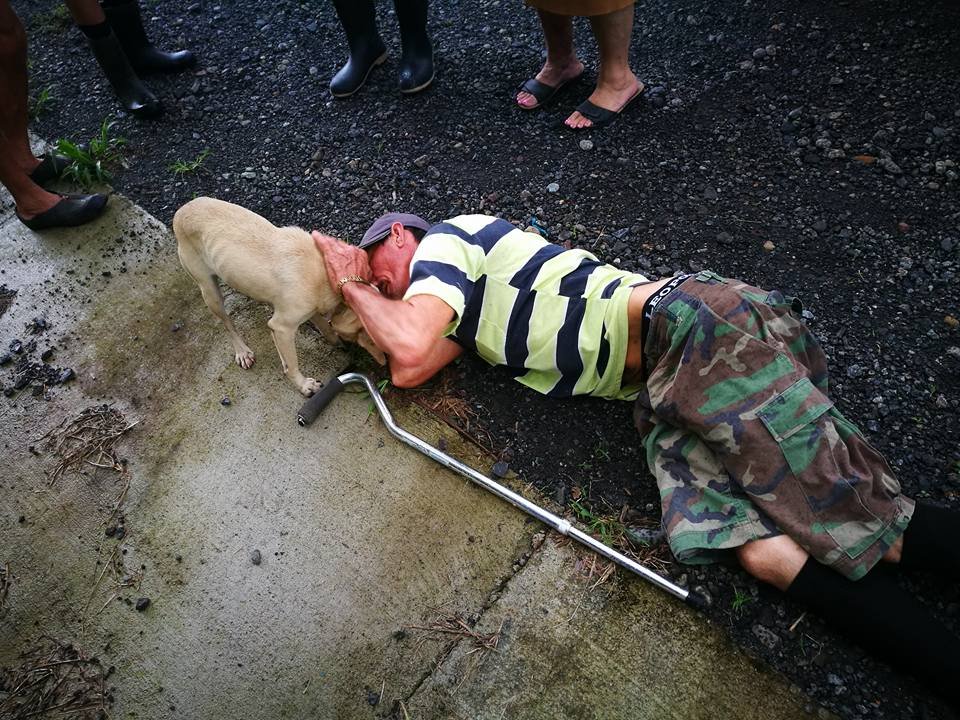 Milagro said:
"My husband and I immediately ran to the man, and the dog ran with us to where the man was and she began to lick it nonstop. My husband called the ambulance. "
At this time, it had started to rain, but the dog stayed next to its owner.
Today on my road to work a little dog crossed the track desperate as if she wanted to tell us something … on one side was her owner with his cane, he had fallen and was beaten … while the ambulance arrived she never left He sucked it like saying that everything was going to be fine … and there I wait with his master in the rain for the ambulance, demonstrating once again the sincere and unconditional love of animals! For that reason I love animals and I defend them because they are a sign of pure and true love!
Milagro said:
"She never left him."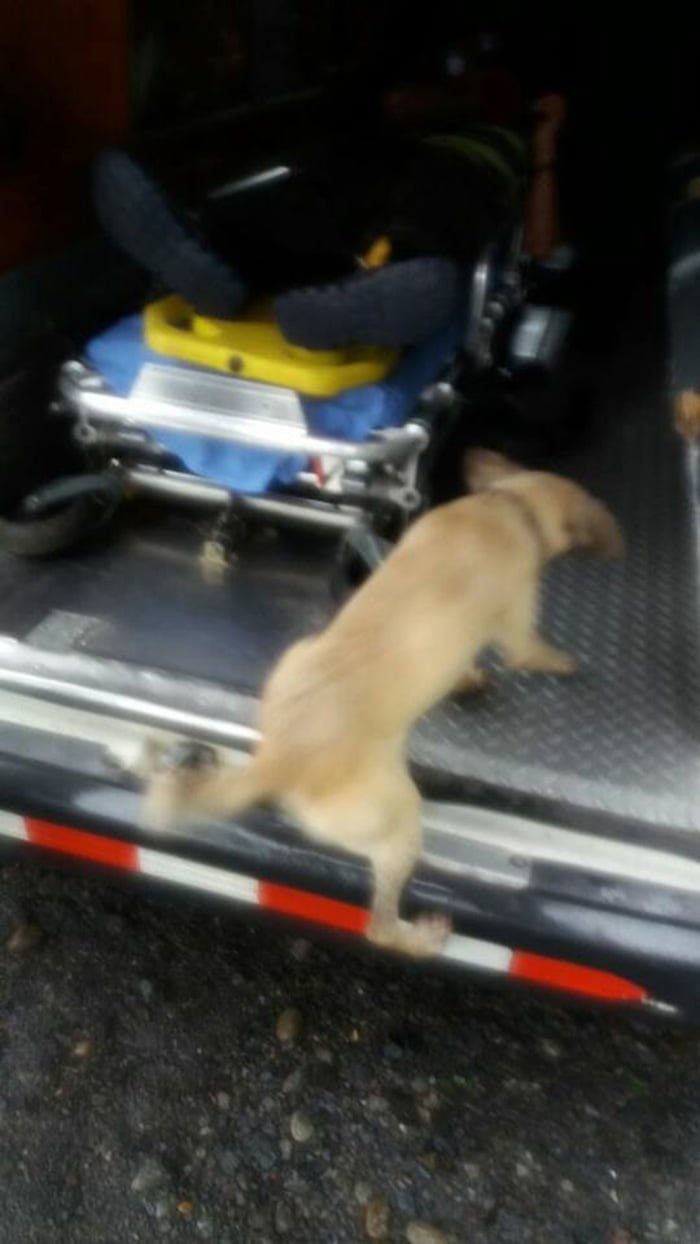 Milagro said:
"He was conscious, but very beaten. According to people who came to the place, they indicated that the man has problems in one leg, lives alone with the animal. Maybe because he has a hard time walking, he lost his balance and fell. "
When the ambulance arrived, the paramedics lifted the man on a stretcher and loaded him into the vehicle. The dog went up too.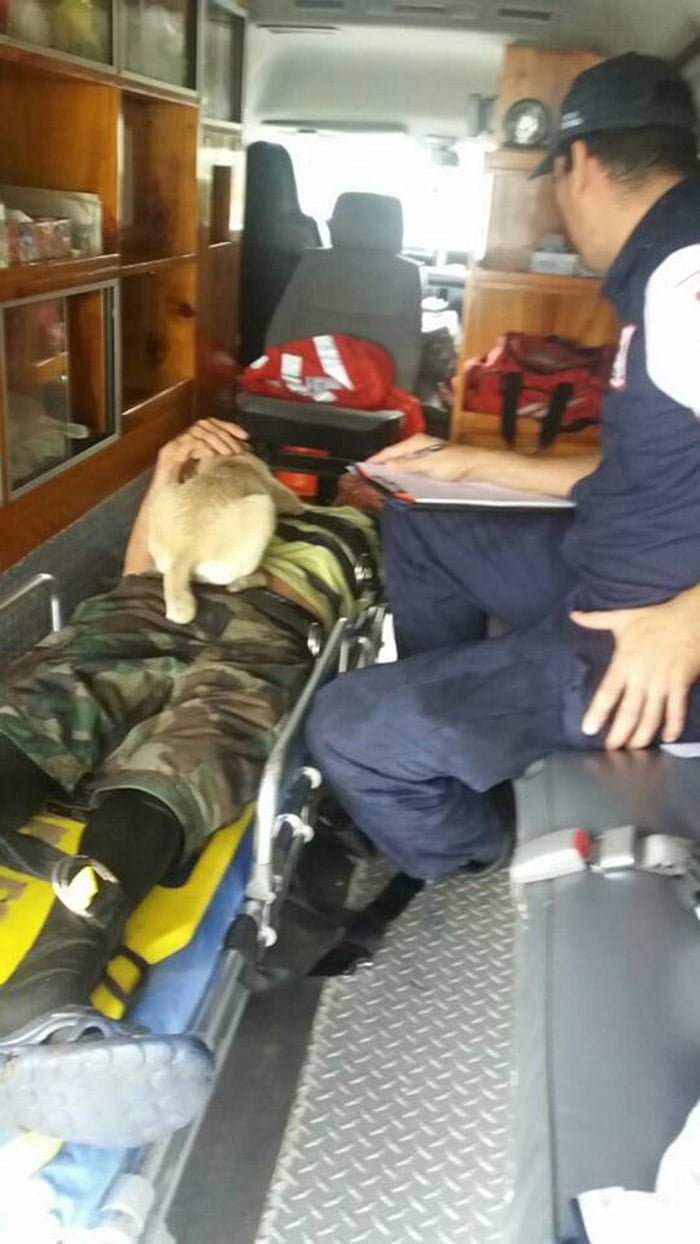 Milagro said:
"Immediately he went straight to where his owner was in the ambulance and lay on his chest as you can see in the photos. The paramedic let the dog say goodbye to its owner, but then we had to bring it because he was not allowed to stay in the ambulance. "
Loyal puppy runs through traffic looking for help for her injured owner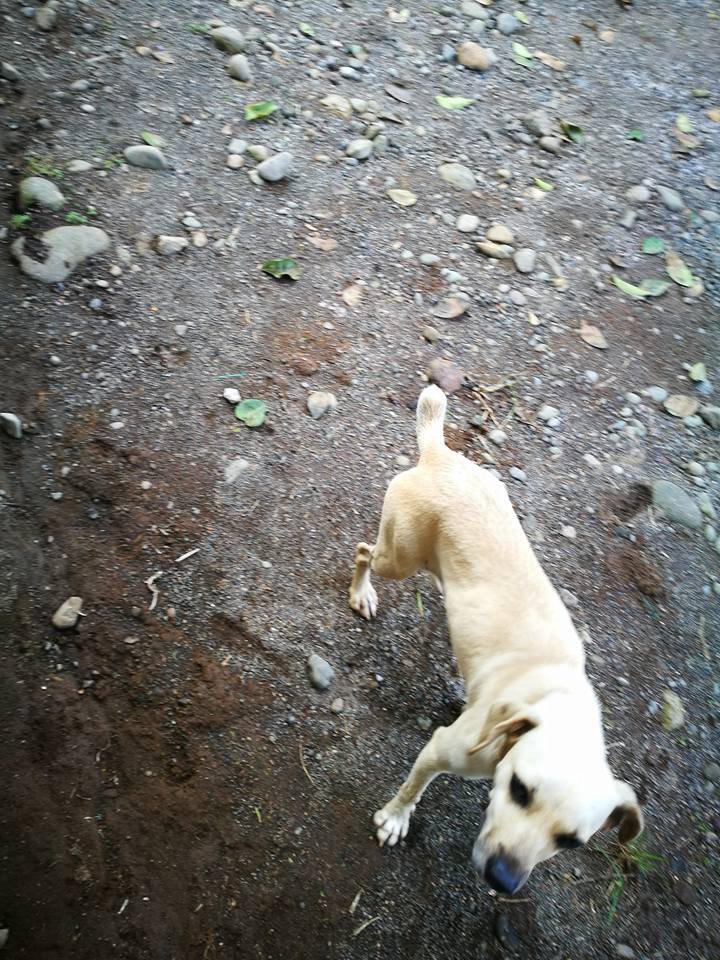 Finally the man was taken to the hospital and a neighbor took the dog to his house, while the man recovered.
Then, Milagro published photos of the incident on Facebook, and the publication went viral, which took her by surprise.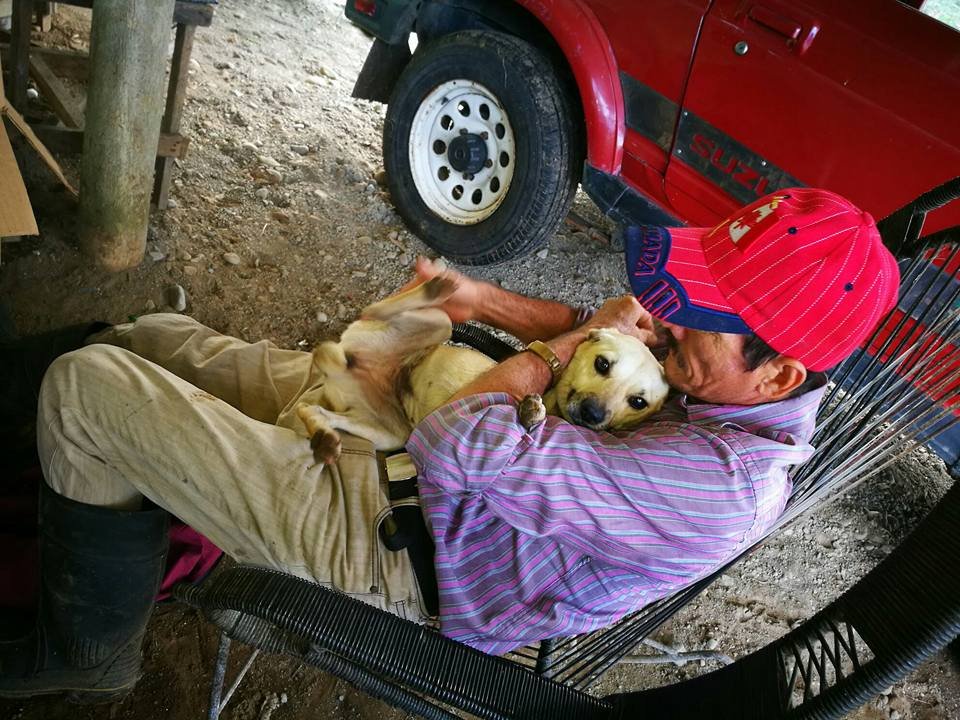 A few days later, the woman returned to the same neighborhood to see how the man was, who had been discharged from the hospital. A man took her to the humble place where the lord lives with the dog
Milagro introduced herself to the man, who is called  Jorge and his little dog is called 'Chiquita'.
Hello ! To all those who have been asking me about the accident lord and his faithful little dog !!! Yesterday I found them … and the 2 are very good! Don Jorge, a little shy when he spoke, told me that Chiquita is his daughter because he always takes care of me and that it is not the first time that he saves his life … that's why I will never allow anyone to mistreat me, he told me! And small among his little tail and among his jumps all over the place told me that she was happy next to his best friend! Chiquita will soon be castrated and blood tests will be done because she is a little thin! And Don Jorge a noble neighbor of a big heart takes care of him !!!
Milagro said:
"I was very happy to see that they were fine. But at the same time, I was sad to see them living in such horrible poverty. The man has a problem with his leg, which prevents him from walking to buy his medicine. He has a neighbor with a big heart that gives him food and washes his clothes. "
Jorge not only has his neighbor, but he also has Chiquita. If  Jorge ever gets into trouble again, Milagro is sure that Chiquita will do everything possible to rescue its owner.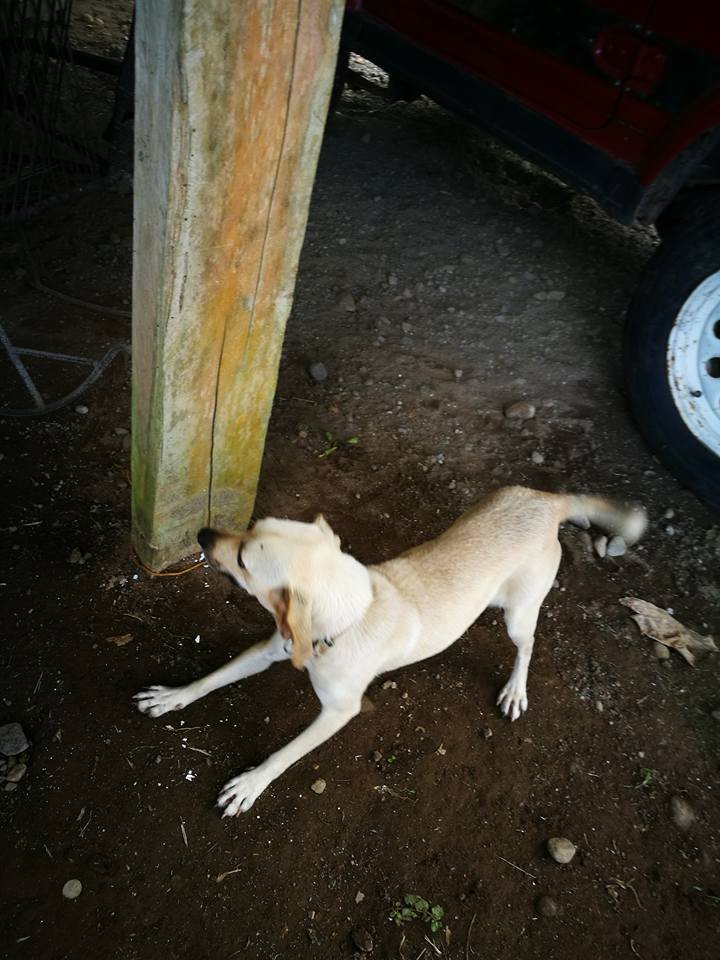 Since Milagro is a veterinarian, she decided to do something else to help: she will take Chiquita to her clinic to be sterilized, vaccinated and dewormed, and to do blood tests.
Milagro added:
"I think it's very important that people know this kind of stories so that people take care of the animals. Animals are defenseless and good-hearted beings who need us to take care of them. And they should not be mistreated. "